Plastics in the UK:
practical and pervasive ... but problematic.
JON CULLEN | MICHAL DREWNIOK | ANDRÉ CABRERA SERRENHO
• The two most important environmental impacts of plastics are greenhouse gas emissions and ocean waste pollution. These problems are being aggravated by the way we have been disposing of plastics.
• Increasing recycling capacity in the UK could both reduce emissions and prevent ocean waste pollution. Our limited domestic recycling capacity leads to waste exports to countries with poor waste management practices.
• Action is urgently required to reduce the impacts of plastics. We must address the excess use of packaging, the variety of polymers used in similar products, practice in polymer production, and promoting reuse and recycling of plastics.
PLASTICS ARE PRACTICAL
From 1950 to 1990 global production of plastic increased sixty-fold (from 1.5 to 90 Mt), compared with four times for steel, nine times for glass, and twelve times for aluminium.
Growth has continued steadily from 1990 until today, with production increasing by three and a half times worldwide, as seen in Fig.2. During this period, plastic demand outpaced steel, glass and aluminium, and kept abreast with cement.
Much of this growth in demand has been driven by increasing populations and per capita wealth in developing economies around the world. In contrast, demand for plastic in the UK plateaued, with consumption remaining constant over the past decade, at about 6 Mt per year.
The story of plastics over the last 75 years is one of insatiable growth driven by plastic's prized properties and low costs compared with other materials.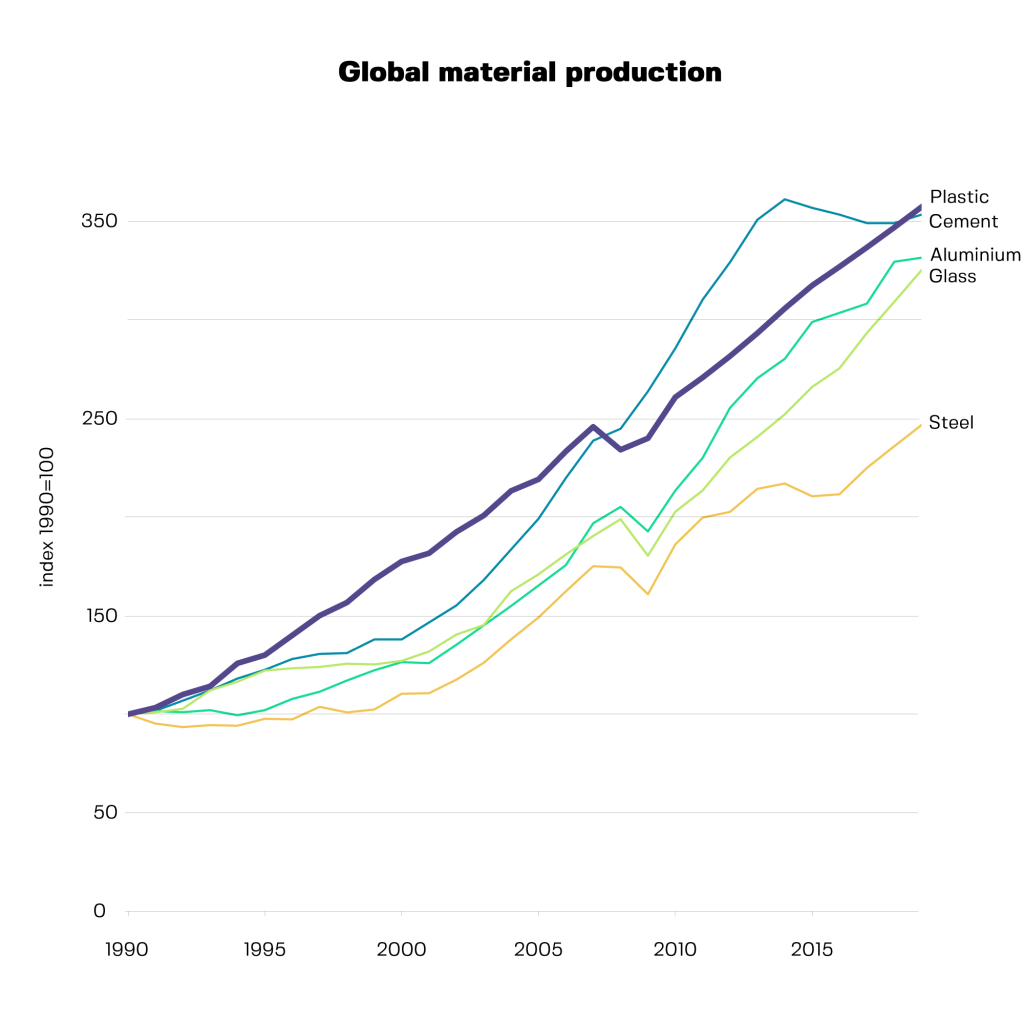 Types of plastic produced worldwide in 2017

Fig.3 Types of plastic produced worldwide in 2017.
PLASTICS ARE PERVASIVE
There aren't official statistics about plastics in the UK, and only disparate publications from PlasticsEurope and Waste & Resources Action Programme (WRAP) show us snapshots of a few stages along the supply chain of plastics. The data are still insufficient to tell us how much and which types of plastics are used every year, where they came from, on what products they are used and how they are disposed of. And knowing this is essential to identify what problems are being caused by plastics and what opportunities exist to mitigate them.
For this report, we had to conciliate available data on plastics with UK trade statistics in order to estimate the polymer composition in annual trade flows. By doing this, we were able to trace the flows of various polymers from production to transformation, use, and disposal.
The supply chains of plastics are complex, since each polymer and application is sourced in different ways. However, most of the plastics used in the UK were made in other countries, and most of them were imported as finished goods sold to final consumers. For this reason, the production of plastics in primary form in the UK supplies less than 20% of UK consumption.
Fig.3 shows that we use a huge variety of different polymers, and we even use several different polymers for similar types of product. However, this mixture of polymers causes problems when plastics are disposed of. Each polymer is recycled in a different way so the mixture has to be separated, requiring additional energy and emissions and degrading the polymer. Less pure recyclates also leads to the use of recycled plastics in lower value applications.
Plastics encompass a myriad of different materials and products, each with their own unique properties, uses and issues for recovery after use.
PLASTIC FLOWS
Plastic flows
UK 2017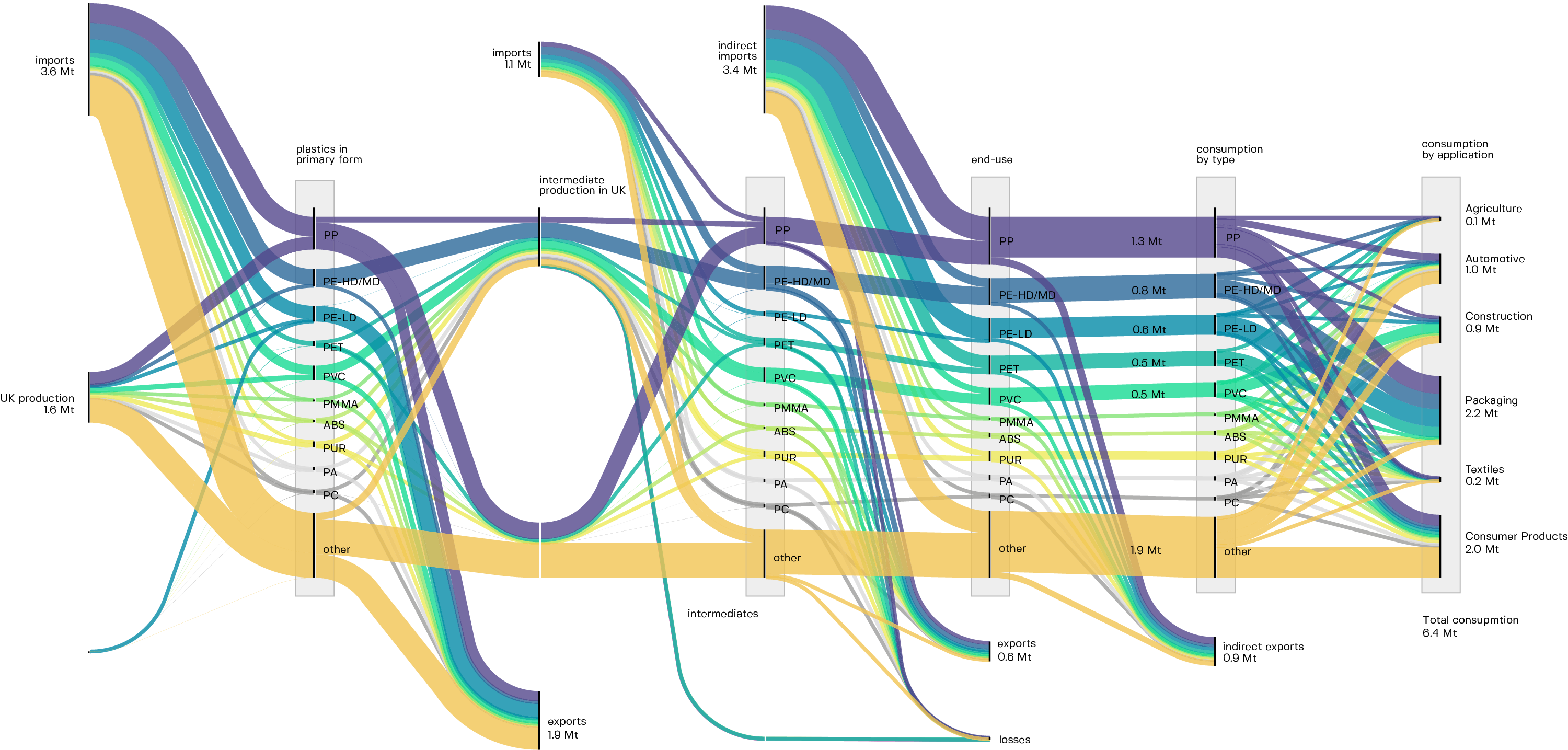 We tend to think of plastics as one uniform material. But plastic, unlike other materials such as steel, concrete and paper, encompasses numerous materials (or chemical formulations, as shown in Fig.3) and product configurations. This makes the recovery of plastic material after use particularly challenging, as each chemical formulation needs to be treated separately.
PROBLEMS WITH PLASTIC
Plastics are useful, durable, cheap and easy to shape into products, and these desirable properties have led to spectacular growth in demand over the last century. Yet, their success is both a blessing and a curse. Plastics create challenging pollution issues, from the release of greenhouse gas emissions to plastic waste found in waterways and oceans.
The use of plastics in the UK generates 26 Mt CO2e, every year, across the whole life cycle of plastic products. Production, both in the UK and overseas, accounts for 80% of these emissions. Burning plastics, which are derived from fossil fuels, creates 17% of emissions, with recycling and landfill contributing only 2.3% (Fig.6)
Single use plastics is the name given to products which are used only once or for a short period of time. Three such products—plastic cutlery, straws, stirrers and carriers bags—make up only a tiny fraction of CO2e emissions from plastic. Yet these items currently dominate the UK's plastic waste strategy. There is a need to develop policies to address impacts from all products. The sheer number of plastic materials and products, means a variety of intervention strategies and polices will be needed.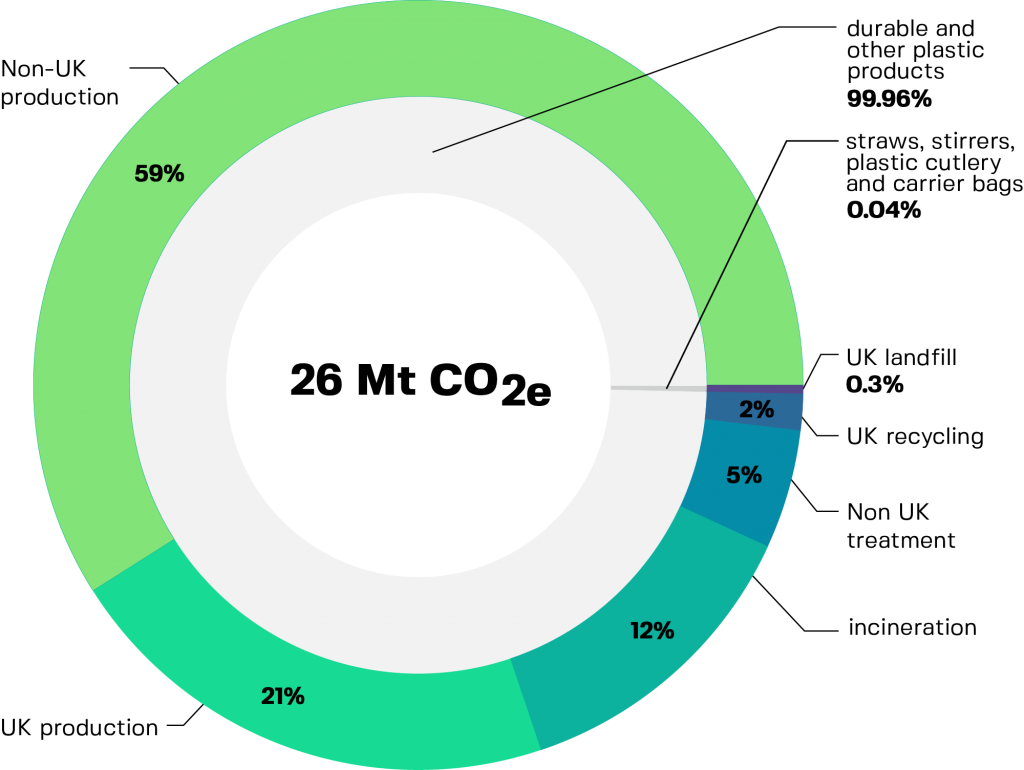 Our modern production processes, use and disposal of plastics create challenging pollution issues, from the release of CO2 emissions to plastic waste found in waterways and oceans.
We have all seen images of the devastating effect plastics can cause in marine environments and across all ecosystems. These environmental impacts result directly from the mismanagement of plastics waste and the durability of plastic products. However, in countries with established waste collection systems, plastic waste rarely ends up in the oceans, with only minor contributions from consumer littering.
The UK reports 3.4 Mt of plastic waste arising in 2017–with roughly one third sent to landfill, one third to incineration, and one third for recycling (Fig. 7). The UK's limited recycling capacity meant only 0.4 Mt of plastic waste was recycled in the country. The remaining 0.7 Mt was exported to other countries, purportedly to be recycled. Yet, poor waste management practices in some of these destinations leads to waste being illegally dumped, resulting in plastic entering waterways and marine environments.
Fig.7 shows our best estimate of end-of-life flows of UK plastic and their destinations. We estimate that up to 2% of UK plastic waste (0.06 Mt) may end up in the oceans.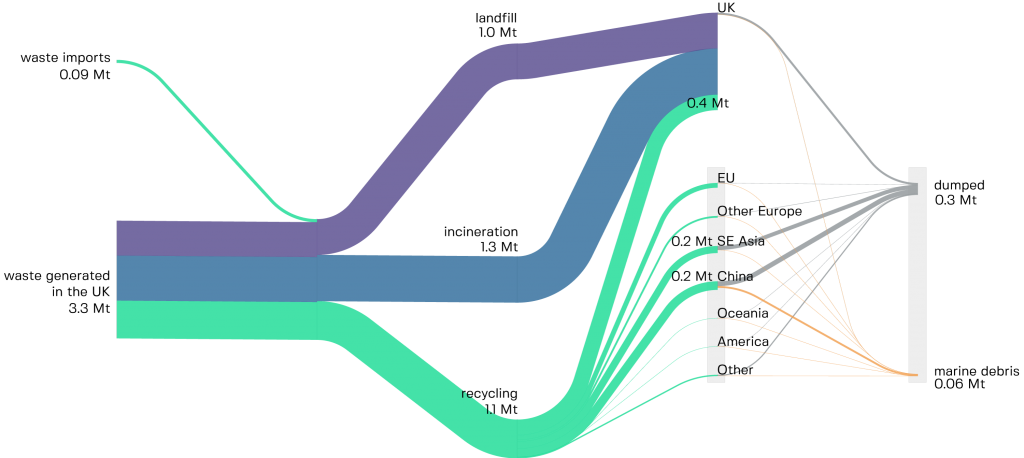 ALMOST ALL PLASTICS CAN BE RECYCLED, BUT IN REALITY THEY ARE NOT
1
WHAT GOES IN MUST COME OUT
Global demand for plastic has grown at extraordinary rates. In fact, it is estimated that at some point, between 2017 and 2018, we produced the 10 billionth metric tonne of plastic (10,000 Mt). Of this, about 9,200 Mt was virgin plastic sourced almost exclusively from fossil fuels. Another 800 Mt was from recycled sources. Only 8% of all plastic material made to date has been from recycled content. About 2,750 Mt of plastic material is locked up in plastic products which are still in use today. These products accumulate in society and are known as in-use stocks. Most of the remaining plastic produced, some 7,000 Mt over the course of history, has been discarded in landfills or nature (78%), incinerated (13%) or recycled (8%). The history of plastic production is a far cry from being anything like circular!
On an annual basis, the balance of plastics consumed and discarded is much closer. In 2017, humankind consumed 438 Mt of plastic products and created 328 Mt of waste (a through rate of 74% compared to the accumulated historical rate of 70%). The difference between plastics flowing into use, and out of use, comes about because some products remain in use for longer than a year (called durables), and this combined with growth in demand, means waste generation lags behind consumption. Therefore, the higher through rate today, compared to historically, reflects change in consumption patterns, and perhaps some shortening of product lifetimes (although it is difficult to unpick these two effects without better data.)
Packaging accounted for a third of UK plastic consumption in 2017, with on average 46% of packaging waste being recycled. Among the packaging materials, the highest recycling rate was for plastic bottles (PET/HDPE) at 74%, while consumer plastic film was as low as 3.5%. Roughly two-thirds of plastic bottles are recycled in the UK, whereas all plastic film waste is currently either incinerated, landfilled or sent overseas, with no guarantee the waste is handled correctly. Very little recycling data is collected for the remaining two thirds of UK plastics consumption, which includes durable plastic products used in agriculture, automotive, construction, textiles and consumer products.
Efforts to address the recycling of these products have been slow coming. We suggest that the absence of comprehensive flow data across all UK plastic flows is a key barrier that holds back the development of policy and regulatory instruments for these larger slices of the market. Furthermore, UK regulatory bodies, in our view, have become fixated on specific single-use consumer products, which although highly visible, make up only small fractions of plastic demand and environmental impact.
MACROPLASTICS
Every year, as much as 13 Mt of plastic waste enters the oceans. This is more than twice the annual consumption of plastics in the UK. Most plastic waste enters the ocean due to inadequate poor waste management systems. In 2010 most plastic marine debris came from China and SE Asian countries.
In 2018, China stopped importing several types of plastic waste, while most developed countries, such as the UK, produce more plastic waste than they can process domestically, and as a result must export plastic waste to other countries. Yet, these countries will often have high rates of waste mismanagement, with plastic waste being dumped in open landfills, being burned or finding its way to rivers and oceans.
OCEAN WASTE IS A BIG ISSUE, AND THE UK CONTRIBUTES ABOUT 1% OF MACROPLASTIC OCEAN WASTE.
MICROPLASTICS
Microplastics are a significant source of plastic pollution and environmental impact. These are plastic particles smaller than 5 mm and they occur in the environment as either primary or secondary microplastics.
Primary microplastics are small plastic particles deliberately manufactured for abrasives or cosmetics, which later find their way to the environment.
Secondary microplastics result from the mechanical degradation of larger plastic particles, e.g. by washing garments made of plastic fibres or from the natural erosion of plastic waste.
Pollutants, such as aromatic hydrocarbons (PAHs) and heavy metals tend to adhere to the surfaces of microplastics and can accumulate in food chains.
About 0.95Mt of microplastics make their way into the global marine environment every year, with 28% from vehicle tyre dust, 24% from marine, road and building paint, 24% from spills of pellets used in manufacturing, 20% from textiles and 4% from cosmetics.
There are no simple options for preventing microplastics entering the ocean, but improving plastic waste management, making paint and textiles more durable, and limiting car travel, all help.
Fig.8 Global annual microplastics waste in the marine environment.
If we carry on the current patterns of use of plastics, we will have to deal with approximately 6 Mt of plastic waste every year in the UK. It is technically possible to recycle all man-made polymers, but not in the UK. Some polymers are even excluded from kerbside collection. Our limited capacity to recycle plastics in the UK—currently only approximately 400 kt (thousand tonnes) per year—means that most of what is labelled as recycled is instead exported.
Since the UK exports most of its plastic waste, it is simply not possible to create a domestic circular plastic economy (Fig. 9). Nor is the UK's use of plastic circular in a global sense, with less than 1% of UK plastic demand being supplied with recyclates.
Recent policies have targeted reductions of single-use plastics (such as drinking straws which make up only 0.04% of plastics used in the UK.) However, increasing UK recycling capacity across all products could prevent mismanagement of plastic waste and improve material circularity. As a result, this would reduce the need to produce new plastics for the UK every year, and thus avoid the emissions of producing them.
Recyclability currently depends also on the levels of purity of the various polymers. Yet, a wide variety of different polymers for the same or similar applications is a challenge for polymer separation and contributes to low recycling yields. Reducing the number of polymers used in plastic products would allow plastic waste to be recycled more effectively, thus reducing demand for new plastics.
UK demand for plastics is expected to remain constant over the next 30 years.
POSSIBLE PATHWAYS FORWARD
Increasing recycling capacity in the UK could avoid mismanagement of exported waste and avoid production of virgin plastics. This would reduce plastics emissions, as shown in Fig.12. This figure also shows the emissions savings achieved by halving the demand for packaging per capita. Packaging has high throughput and very short lifetime, so a reduction in demand would rapidly reduce production emissions and the environmental impact of plastic waste management. Preventing food waste, a significant source of emissions itself, has the added benefit of reducing packing waste. However, almost 40% of plastics consumed annually are not seen by final consumers. These are mostly packaging used in B2B transactions, and so there is a meaningful opportunity to reduce this type of packaging.
However, the potential for emissions savings of the measures above combined is still modest (Fig.12), reducing emissions from current 26 Mt CO2e to 20 Mt CO2e by 2050. This is because even with maximised recycling capacity, recycling yield losses are very high, due to polymer mixing in waste streams and the limitations of the mechanical recycling processes. As a result, a substantial increase in recycling capacity wouldn't lead to a meaningful reduction in the production of new polymers and their associated emissions. Further savings will have to come from a combination of other strategies, such as:
Chemical recycling
Plastics recycling is currently done using mechanical recycling processes, which processes plastic waste into the secondary products without significant changes to their chemical structure. However, using more energy it is possible to reduce the polymers in plastic waste to basic molecules that can be used to synthesise new plastics. This recycling would enable higher grades of recycled plastics, increasing recycling yields. Chemical recycling is still not available at commercial scale. But if powered with zero-carbon energy sources, chemical recycling could enable the replacement of more new plastics production, and thus lead to substantial emissions savings.
Bioplastics
Bioplastics are produced from biomass feedstock instead of fossil fuels. As a result, these plastics have much lower emissions generated during production. However, due to their greater biodegradability, most of these plastics have a higher emissions at the end-of-life, particularly if landfilled or composed. This is an area of active research and there is an opportunity for innovation in the production of non-fossil fuel-based plastics with better life-cycle emissions performance than conventional plastics.
Reuse and design
Better product designs that foster longer lives and reusability can promote plastics demand reduction, and allow simpler separation at end-of-life.
Innovation in the petrochemical industry
The chemical and petrochemical industry is one of the largest global industrial sources of emissions. An important source of emissions in this sector is the result of CO2 generated as a product of chemical reactions required to make some of the precursor molecules used in plastic production. There are opportunities to explore innovative methods to avoid these emissions and to deploy carbon-capture processes in the petrochemical industry.
Solutions to address plastic pollution exist, but many of the technologies are not available at scale and may be linked to unintended consequences.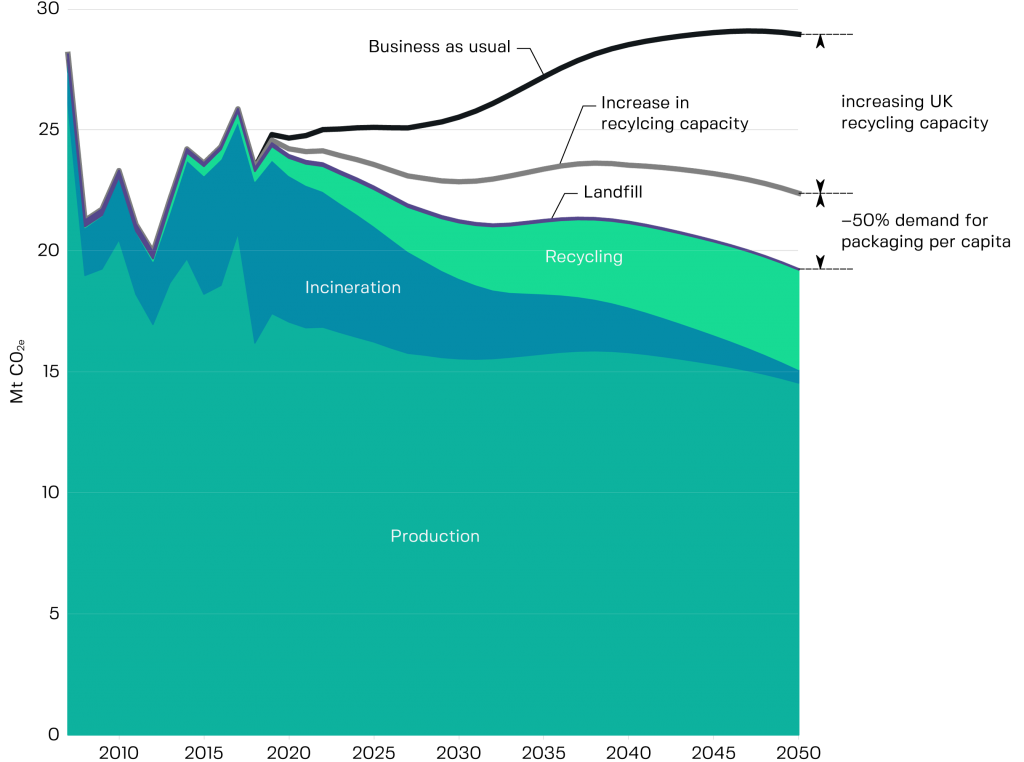 Plastic packaging film is commonly used for perishable foods, to limit the food's contact with oxygen. In 2017, the UK consumed 395 kt of plastic film, but due to the lack of recycling capacity in the UK and low economic value of this type of waste, only 4% of waste arising were collected for recycling. The remaining was either landfilled, incinerated or exported.
5
PLASTIC FOOD PACKAGING
Food waste is a much larger contributor to climate change than the plastic used for packaging food. In fact, WRAP estimated the food waste in the UK generated 25 MtCO2e last year, which is almost exactly the same amount created by whole life emissions for all plastic products consumed (26 MtCO2e). Overall, some 9.5 Mt of food, out of a total 44.5 Mt purchased, is wasted from UK households and businesses. The largest share of food waste from households are fresh vegetables & salad (1.85 Mt), sauces, pasta, rice, cakes, desserts, oils, fats, confectionery (1.06 Mt), drinks (0.99 Mt), bakery (0.73 Mt) and meals (0.59 Mt). We calculate that reducing this food waste to zero, could in turn lead to a 20% reduction in plastic film waste and a 5% reduction in plastic bottles, used to for packaging the food.  
Refrigeration in the home is vitally important for maintaining freshness and extending the storage-life of food and drinks. Food stored in the fridge will typically stay fresh for 7–14 days longer than food stored at a room temperature of 22°C. Storing fresh produce in a plastic in the fridge can help to retain moisture and freshness, Yet, only lemons and peppers, from a selection of 17 fruit and vegetables types, showed any significant improvement (of more than three days) in storage-life when refrigerated inside a plastic bag. The other 15 fruit and vegetables remained just as fresh when stored without packaging.
Research highlights from CirPlas, the Cambridge Centre for Circular Economy Approaches to Plastic Waste
Solutions to address plastic pollution exist, but many of the technologies are not available at scale and may be linked to unintended consequences.
PURSUING THE RIGHT OPTIONS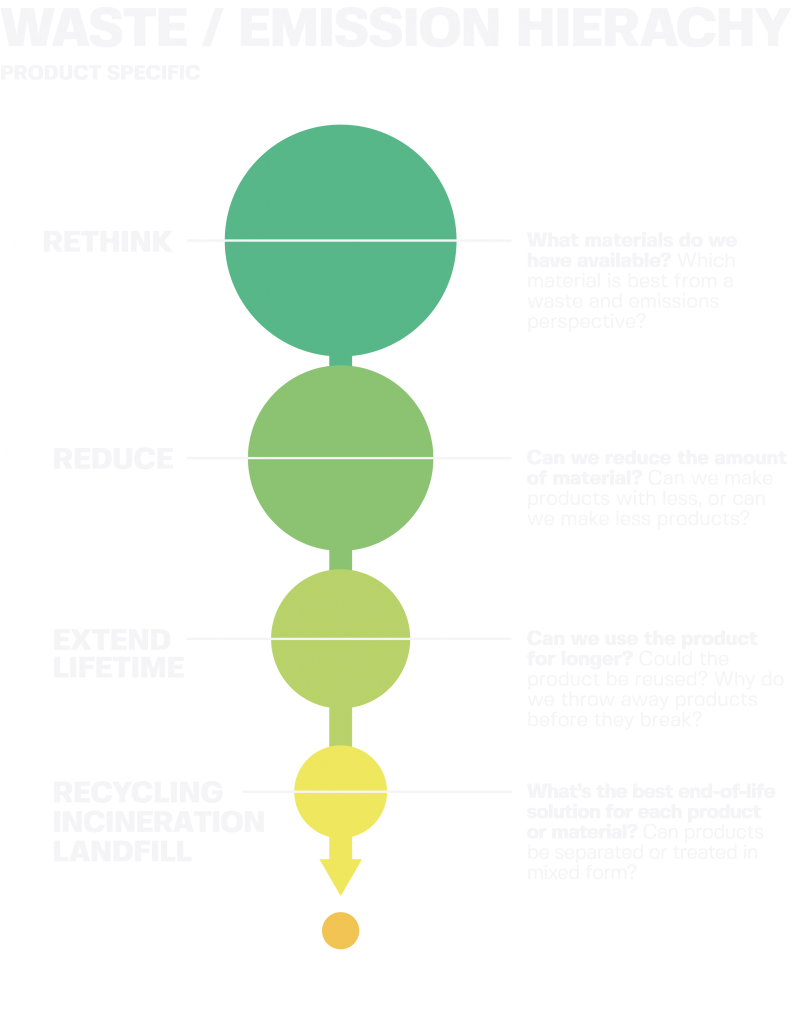 We need tailored solutions for the myriad of plastics we use.
Plastic's properties of strength, manufacturability, low costs, and colour options make it prized among materials. The class of material we call plastics, is, however, far from a single homogenous material. Instead it is wide-ranging set of many materials and numerous products, each with its own unique set of characteristics. This is what makes plastics so practical and pervasive in modern society. But we need to stop thinking of plastics as one material and stop looking for a single solution to address plastic pollution problems.
This report presents a comprehensive view of UK plastics, including a novel analysis of material flows, stocks, and trade flows, along the supply chain. We've traced the post-consumer waste through to incineration, landfill and recycling, both in the UK and overseas. And we've calculated the current in-use stocks of plastic products for the UK and used this to infer future demand for plastic  and generation of plastic waste.
We've noted that for some plastics flows, data are already prevalent, for example, the recycling rates of plastic packing, yet in other areas of the flow map, such as durable products, there are significant knowledge gaps and much research is still to be undertaken.
Two main environmental problems require urgent attention: the first is CO2 emissions, where the UK's consumption of plastics generates 26 MtCO2e emission across the whole life cycle; the second is pollution of waterways and oceans with plastic, which is much more challenging to quantify.
With the myriad of different plastic materials and products in use, it is little wonder that finding the right solutions to address emissions and ocean waste, for each material and product combination, is challenging. Each plastic has its own set of unique solutions and challenges.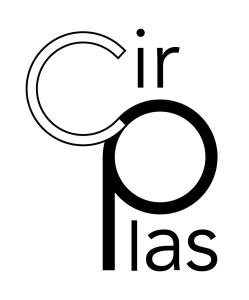 The Cambridge Centre for Circular Economy Approaches to Plastic Waste
Urgent action is required for waste plastics as eight million tons of plastic enter the oceans every year and plastic pollution has become a serious threat to our local and global ecosystem. The export of British waste has reached record numbers in recent years as Britain does not have the requisite infrastructure to recycle its own plastic waste and severe shortages in landfills have become commonplace following China's restrictions in 2018 on foreign waste imports.
CIRPLAS is a recognised think-tank, nurturing a multidisciplinary research culture between global network of partners and a range of Cambridge-based research projects to tackle contemporary challenges from manufacturing more sustainable materials to driving innovations in plastic recycling. The 18-months UKRI funded project targets the development of a sustainable plastics economy by understanding the local and global distributions of plastics, innovating alternatives to plastics and developing  novel technologies for the utilisation of waste plastics.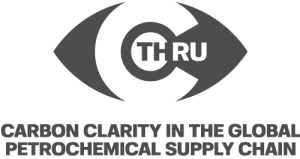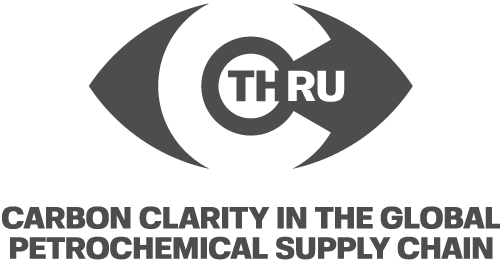 Carbon Clarity in the Global Petrochemical Supply Chain
It is hard to imagine the world without the modern petrochemical sector: chemicals and their derivatives are all-pervasive. Plastic, rubber and synthetic textiles adorn our buildings, vehicles and countless other elements of the modern built environment. Modern agricultural systems could not function without synthetic fertilizers and the pharmaceutical sector as we know it would not exist.  Nevertheless, the modern petrochemical sector exerts a large environmental burden, being responsible for 30% of final  industrial energy use, including 10% of global oil and gas demand, and drives 17% of global industrial CO2 emissions. And demand for chemicals is expected to at least double by 2050.
C·THRU is 3-year international multi-disciplinary research project, which is funded by the VKRF Foundation and begins 1 October 2020. It aims to deliver foresight on the future interventions and innovation opportunities in the petrochemical sector required to minimise greenhouse gas (GHG) emissions. This will be achieved by delivering the world's most comprehensive, reliable and transparent account of current and future emissions for the sector. This account and the underlying modelling methods, tools and data will support strategic policy and business decision-making to promote the global sustainability of the petrochemical sector.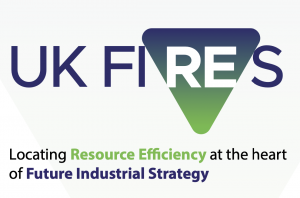 Locating Resource Efficiency at the heart of Future Industrial Strategy
Legally binding targets to achieve net-zero emissions by mid-century have now been passed in eight countries including the UK, France, Germany and China. These targets are an extraordinary challenge for the complex supply chains that transform material resources into societal benefit. However, the requirement for radical change creates opportunities for innovation and could lead to a renaissance for manufacturing in the UK. Delivering net-zero depends on locating Resource Efficiency at the heart of future Industrial Strategy. This requires access to data on material use, information about options for change and evidence about successful pathways to deployment.
UK FIRES is a major research programme, comprising a consortium of subscribing industrial partners from resource-intensive sectors working with academics from Cambridge, Imperial College, Oxford, Bath, Nottingham and Strathclyde who are funded from 2019-2024 by a £5m programme grant from the EPSRC. The collaboration is co-ordinated through a Living Lab.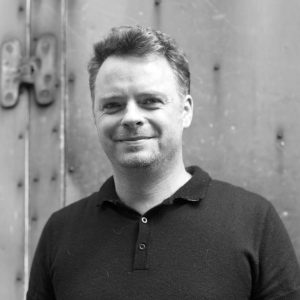 jmc99@cam.ac.uk
Department of Engineering University of Cambridge
Trumpington Street, CB2 1PZ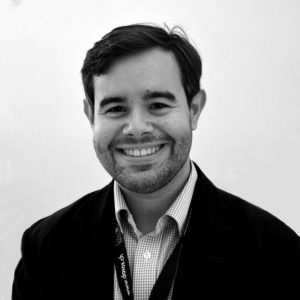 Dr André Cabrera Serrenho