International Conference on Sustainable Wind Turbine Blades 2022
The sustainability of wind turbine blades, from the selection of materials to the manufacturing of blades and until the end of life and recycling phase, has become a major topic of discussion in recent years. New development in the field of material sciences, recycling technologies and in the analysis of the recycling value chain is shaping future perspectives.
The International Conference on Sustainable Wind Turbine Blades: New Materials, Recycling and Future Perspectives took place between the 21st and 23rd November this year. The conference gathered more than 120 participants from the USA, Europe, the UK, and India. Specialists from leading companies (including Vestas, Siemens Gamesa, LM Wind Power, Arkema, Owens Corning, Aditya Birla Group) and research centres (including National Renewable Energy Laboratory, Fraunhofer IFAM, DTU Wind and Energy Systems, ORE Catapult) shared their experiences, results and goals in the sustainability of wind turbine blades. Many topics were discussed across forty-three presentations with a particular focus on recyclable wind turbine blades, recycling technologies, environmental and cost evaluation using life cycle assessment, supply chain, markets and policies.
I presented work in exploring recycling solutions for wind turbine blade waste issues in China based on a manuscript which is currently under review. With the largest installed wind power capacity globally, China must deal with increasing composite turbine waste and anticipate its associated costs. Our work predicted the quantity and composition of wind turbine blade waste based on historic deployment. Based on current installations and future projections, 7.7 to 23.1 million tonnes of blade waste will be generated in China by 2050. Technologies exist to recycle glass fibre from blade waste, but these solutions vary in level of maturity and are not always commercially available, cost-competitive, or environmentally sustainable. Our findings can inform decision-makers in governments and industry on evaluating the role of wind power in decarbonisation and dealing with the blade waste challenges.
Overall, the conference was an exciting opportunity to engage with researchers focusing on sustainable wind turbine blades, establishing new contacts and potential collaborations. Turbine blade waste treatment is a cross-sector challenge and not solely a challenge for the wind industry. All the composite-using sectors and sustainability practitioners must work together to speed up solutions.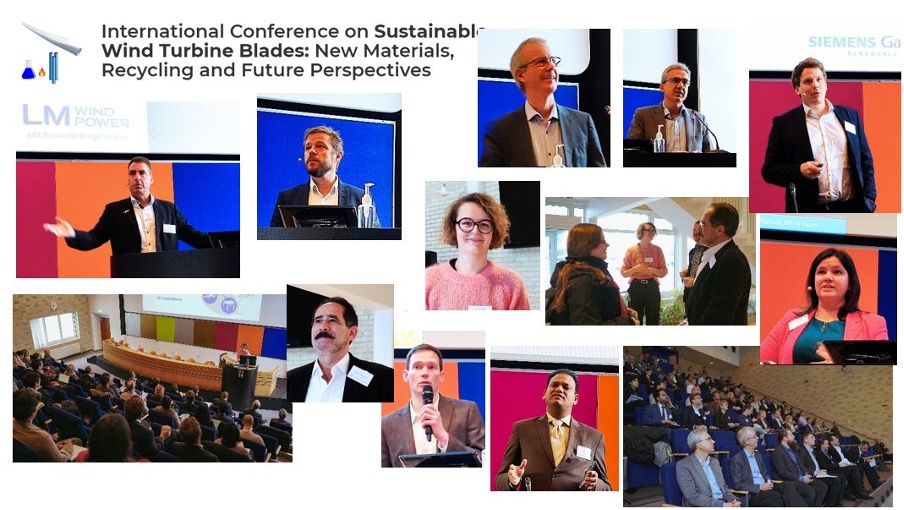 Read more about Fanran and his research on our website. His publications this year include an analysis of the different options for end-of-life treatment of wind turbines.
Photo credit: Gonz DDL