The geopolitics of critical materials and minerals and implications for the low-carbon transition
Critical materials are gaining attention in the conversation around a sustainable energy transition, but what are they, and why do they matter? In a brief for the Climate Compatible Growth project, Karla and Jon explore the value of critical materials, and how we might alleviate the risks associated with them.
Renewables now provide about 30% of global electricity, and this figure is set to rise in the coming decades as countries make the transition away from fossil fuels. The proportion of vehicles on our roads that are powered by electricity is also growing, as battery-electric vehicles (BEVs) increasingly replace conventional ones.
These trends are a cause for celebration in the fight against climate change, but they also present a challenge. The renewable energy transition and the rise of BEVs have something in common: a high demand for critical materials and minerals. The critical material requirements for renewable energy sources are much higher than for conventional fossil fuels, and the same is true for electric vehicles compared to standard ones. This doesn't make them unviable, or undermine their great value, but it does mean that we need to take a closer look at these critical materials and their supply chains as we push on towards a low-carbon future.
In this post, we explore what critical materials are, some of the key challenges that lie ahead as their demand grows into the future, and how we might go about solving them.
What are critical materials and minerals?
Materials are defined as critical if they are both extremely important and at risk of supply chain shortages. The planned expansion of low-carbon energy infrastructure such as batteries, photovoltaic panels, and wind turbines is fundamentally dependent upon sufficient and steady supply of the critical materials required to build them.
Many of these critical materials are minerals. These include lithium, which is currently crucial to battery production, and copper, which underpins our electricity networks. Other critical minerals include cobalt, graphite, nickel, and rare earth elements.
Risk and resilience in critical materials supply chains
These valuable minerals must be mined from the earth, and they are concentrated in a few, very specific locations. Each supply chain thus relies heavily on a very small number of countries and their governments, leaving them vulnerable to abrupt changes in either the physical supply or the political environment.
The locations where critical mineral supplies are concentrated pose particular risks in light of current geopolitical events. For example, Russia is the biggest supplier of battery-grade nickel, whilst 70% of cobalt is mined from the DRC. Conflict and corruption in these regions pose significant threats to the reliability of global critical mineral supply chains.
There is even less diversity in the countries that extract and process critical minerals. One country is particularly dominant in these parts of the supply chain: China. For every single critical mineral, China is the top processing nation, despite only having a majority of the reserves for rare earth elements. China also monopolises the manufacturing of goods from critical materials, as the biggest producer of batteries, solar panels, and wind turbine blades. And China's dominance over critical mineral supply chains is only set to increase; it has announced the highest level of planned additional capacity for mineral processing of any country.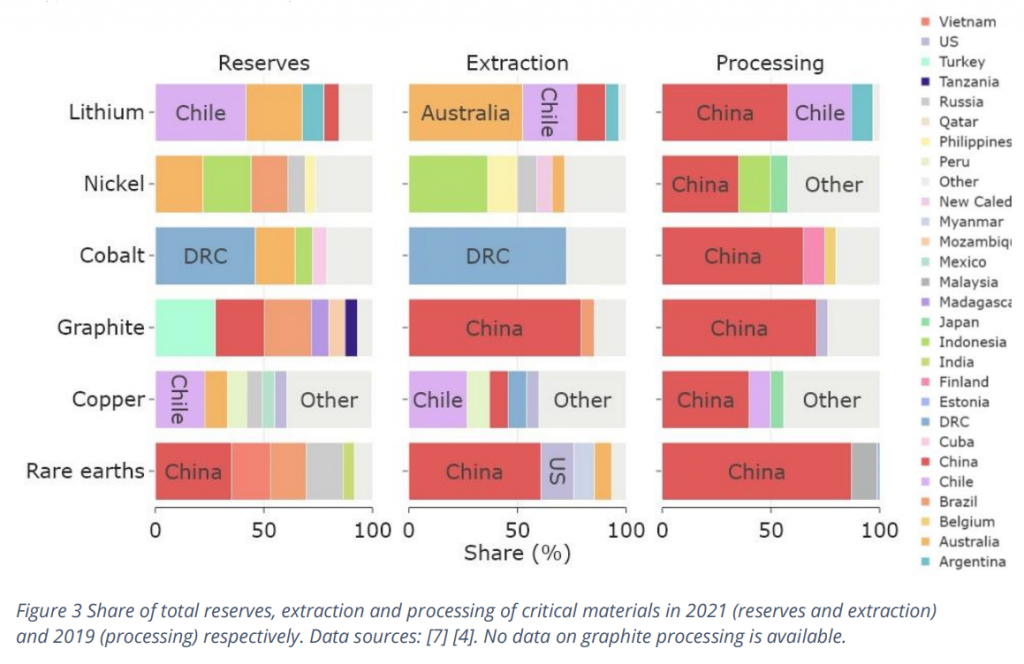 Global reliance on a single country for the majority of processing leaves the global supply chain vulnerable to any changes in supply. Such changes could result from supply shocks or geopolitical events. With geopolitical tensions already running high regarding China's relationship with Taiwan, other countries cannot take for granted a stable political climate and a sufficient supply of critical minerals into the future.
How do we secure critical mineral supply chains?
In order to mitigate the risks associated with relying on critical supplier nations and China's dominance over processing and manufacturing, a range of strategies need to be employed.
For countries consuming critical minerals, it will be important to improve their resilience to supply disruptions and diversify their supplies. These countries should also support the development of recycling and waste recovery for these materials. For countries that produce critical minerals, it will be important to encourage investment in new projects whilst maintaining high ESG standards. Across the board, there is a need to strengthen and develop relationships between producers and consumers, so that policies can be coordinated to bolster the stability of global supply chains.
We need critical materials, and it is critical that countries diversify supply and collaborate with one another to create resilient, secure global supply chains.
Read more about critical materials and minerals, and take a deeper dive into the strategies countries could employ to secure supply chains by reading the policy brief written by Karla, Shobhan, and Jonathan here: The geopolitics of critical materials and minerals and implications for the low-carbon transition
Photo credit: Paul-Alain Hunt